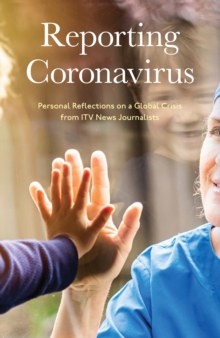 Reporting Coronavirus : Personal Reflections on a Global Crisis from ITV News Journalists
Hardback
Information

Description

Other Formats
Description
Capturing what life was like in Britain and in other countries hit by the virus, the book tells the story of how television news was kept on air when so many workplaces were abandoned and how reporters and crews covered the news while 'social distancing' - a term few had heard at the start of the year. In Reporting Coronavirus, ITV News' correspondents, presenters and producers write about their personal experiences covering the pandemic.
They report what they saw, how they felt and discuss the impact of their journalism.
The book takes us - through first hand reporting - from the epicentre in Wuhan in China to the corridors of power in Westminster and Washington.
We hear from correspondents who spent time observing on the frontline inside Britain's intensive care units and care homes and what they found when they put questions on apparent failings direct to political leaders. The book covers the global story but also the very local story across the UK.
It includes the reflections of the first television journalist to meet the now legendary NHS charity fundraiser, Captain Tom, and an account of how police in Liverpool, a city badly affected by the virus, dealt with the challenges of lockdown. There are stories of how Covid-19 affected every corner of the country, sometimes in profound ways.
Together, the essays reflect a rich range of diverse experiences and perspectives from across ITV News.
Reporting Coronavirus is a collection of essays by ITV News journalists.
They all work for Britain's biggest commercial public service broadcaster.
Their work across the first six months of 2020 reached 50 million viewers -- more than 80 percent of the UK's population.
THE CONTRIBUTORS:Sangeeta Bhabra,Michael Billington,Tom Bradby,Paul Brand,Juliet Bremner,Rachel Bullock,Gary Burgess,Ria Chatterjee,Chris Choi,Paul Clark,Tom Clarke,Charlotte Cross,Paul Davies,Fred Dimbleby,Fred Dinenage,Debi Edward,Julie Etchingham,Vicky Flind,Ken Goodwin,Elodie Harper,Roohi Hasan,Rebecca Haworth,Vicki Hawthorne,Daniel Hewitt,Judith Hill,Joel Hills,Nina Hossain,Matthew Hudson,Stephen Hull,John Irvine,Rohit Kachroo,Emily Kerr,Charanpreet Khaira,Peter MacMahon,Adrian Masters,James Mates,Hannah Miller,Robert Moore,Emily Morgan,Emma Murphy,Mary Nightingale,Rageh Omaar,Rob Osborne,Richard Pallot,Mahatir Pasha,Robert Peston,Ronke Phillips,Rajiv Popat,John Ray,Steve Scott,Chris Ship,Peter Smith,David Stanley,Martin Stew,James Webster,Rachel Younger.
Information
Format:

Hardback

Pages:

288 pages

Publisher:

ITV Ventures

Publication Date:

01/10/2020

Category:

ISBN:

9781910332160