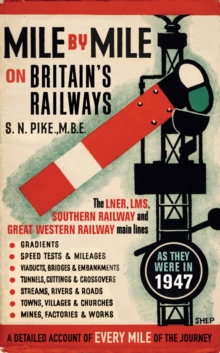 Mile by Mile on Britain's Railways : The LNER, LMS, GWR and Southern Railway in 1947
Hardback
Description
Back in 1947 someone called S.N. Pike - we know nothing more about him - published three little pamphlets, each mapping in forensic detail one of Britain's main line rail routes.
Now Aurum reissues all three in one handsome volume - adding a fourth in the same style to complete the set.
Pike produced booklets on the LNER (the East Coast main line), the LMS (West Coast main line) and the Southern Railway network the Brighton line and all its ramifications) - but for some reason he never got around to doing one on the Great Western (the route from Paddington to Devon and Cornwall).
What subsequently became of S.N. Pike we don't know. But now Aurum completes the set, to make one nostalgic guide to Britain's railways as they were just after the War.
The books are full of period interest - the East Coast line, for example, still goes past Alexandra Park racecourse, sees a tangle of colliery sidings all the way up through Yorkshire, and passes 20 places where "GPO mail bag catching nets" are erected close to the rails". When today's high speed trains swish to Paris so fast that the landscape beyond is a blur, this delightful book reminds you what once could be seen on a long railway journey.
Free
Standard Delivery

Within the UK