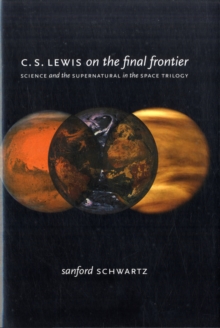 C. S. Lewis on the Final Frontier : Science and the Supernatural in the Space Trilogy
Hardback
Description
C.S. Lewis's space trilogy - Out of the Silent Planet (1938), Perelandra (1943), That Hideous Strength (1945) - has been both admired and dismissed for its staging of a sharply defined struggle between religious and naturalistic points of view.
Proceeding from Mars and Venus to a final showdown on our own planet, each installment takes up another facet of the seemingly impassable conflict between Christianity and the tendencies of modernthought that arose in the wake of the Darwinian revolution in biology.
In Out of the Silent Planet, the target is evolutionary naturalism, primarily as it appears in the science fiction of H.G.
Wells. In Perelandra, it is the alluring but perilous doctrine of "creative" evolution inaugurated by Henri Bergson.
In That HideousStrength, Lewis depicts an insidious organization - the National Institute of Coordinated Experiments - whose friendly acronym, NICE, belies its pursuit of a eugenically inspired program to assume control over the evolutionary process and thereby achieve everlasting dominion over the planet.
Taken together, these seemingly clear-cut confrontations between Christian tradition and modern apostasy reinforce the image of Lewis as the voice of an endangered heritage, a self-styled "dinosaur" wagingspiritual warfare against the corruption and confusions of his age.
Sanford Schwartz here offers a new reading of the trilogy that challenges the prevailing view of Lewis, shared by advocates and adversaries alike, as champion of the "discarded image" of premodern cosmology.
Through his close readingof Lewis's work, Schwartz is able to discern the outlines of a Lewis who is far more deeply engaged with modern developments in science and philosophy, and more prepared to explore the possibilities for transforming these developments in ways that are not only compatible with traditional Christian doctrine but also speak to the distinctive problems of the modern condition.
Unlike the Chronicles of Narnia, the Trilogy has received little scholarly attention.
Schwartz's study fills amajor gap in the literature and will appeal to a wide range of scholars and students as well as to Lewis's many devoted fans.
Information
Format:

Hardback

Pages:

256 pages

Publisher:

Oxford University Press Inc

Publication Date:

01/12/2010

Category: Philosophy of religion
ISBN:

9780195374728
Free
Standard Delivery

Within the UK