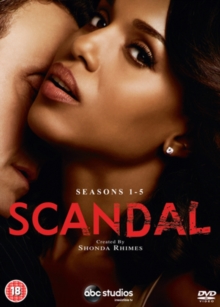 Information

Description

Other Formats
Description
All episodes from the first five seasons of the US political thriller.
Kerry Washington stars as Olivia Pope, an ex-White House Communications Director who now runs a crisis management firm.
Her associates include lawyer Harrison Wright (Columbus Short), investigator Abby Whelan (Darby Stanchfield), hacker Huck Finn (Guillermo Diaz) and new employee Quinn Perkins (Katie Lowes).
Season 1 episodes are: 'Sweet Baby', 'Dirty Little Secrets', 'Hell Hath No Fury', 'Enemy of the State', 'Crash and Burn', 'The Trail' and 'Grant - For the People'.
Season 2 episodes are: 'White Hat's Off', 'The Other Woman', 'Hunting Season', 'Beltway Unbuckled', 'All Roads Lead to Fitz', 'Spies Like Us', 'Defiance', 'Happy Birthday, Mr President', 'Blown Away', 'One for the Dog', 'A Criminal, a Whore, an Idiot and a Liar', 'Truth Or Consequence', 'Nobody Likes Babies', 'Whiskey Tango Foxtrot', 'Boom Goes the Dynamite', 'Top of the Hour', 'Snake in the Garden', 'Molly, You in Danger, Girl', 'Seven Fifty-Two', 'A Woman Scorned', 'Any Questions?' and 'White Hat's Back On'.
Season 3 episodes are: 'It's Handled', 'Guess Who's Coming to Dinner', 'Mrs. Smith Goes to Washington', 'Say Hello to My Little Friend', 'More Cattle, Less Bull', 'Icarus', 'Everything's Coming Up Mellie', 'Vermont Is for Lovers, Too', 'YOLO', 'A Door Marked Exit', 'Ride, Sally, Ride', 'We Do Not Touch the First Ladies', 'No Sun On the Horizon', 'Kiss Kiss Bang Bang', 'Mama Said Knock You Out', 'The Fluffer', 'Flesh and Blood' and 'The Price of Free and Fair Election'.
Season 4 episodes are: 'Randy, Red, Superfreak and Julia', 'The State of the Union', 'Inside the Bubble', 'Like Father, Like Daughter', 'The Key', 'An Innocent Man', 'Baby Made a Mess', 'The Last Supper', 'Where the Sun Don't Shine', 'Run', 'Where's the Black Lady?', 'Gladiators Don't Run', 'No More Blood', 'The Lawn Chair', 'The Testimony of Diego Muñoz', 'It's Good to Be Kink', 'Put a Ring On It', 'Honour Thy Father', 'I'm Just a Bill', 'First Lady Sings the Blues', 'A Few Good Women' and 'You Can't Take Command'.
Season 5 episodes are: 'Heavy Is the Head', 'Yes', 'Paris Is Burning', 'Dog-Whistle Politics', 'You Got Served', 'Get Out of Jail, Free', 'Even the Devil Deserves a Second Chance', 'Rasputin', 'Baby, It's Cold Outside', 'It's Hard Out Here for a General', 'The Candidate', 'Wild Card', 'The Fish Rots from the Head', 'I See You', 'Pencils Down', 'The Miseducation of Susan Ross', 'Thwack!', 'Till Death Do Us Part', 'Buckle Up, 'Trump Card' and 'That's My Girl'.
Information
Format:

DVD

Region:

2,4,5

Certification:

(18)

EAN:

8717418489977

Catalogue number:

BUG0268201

Studio:

Walt Disney Studios Home Ent.

Release date:

24/10/2016

Genre:

Drama

Colour:

Colour