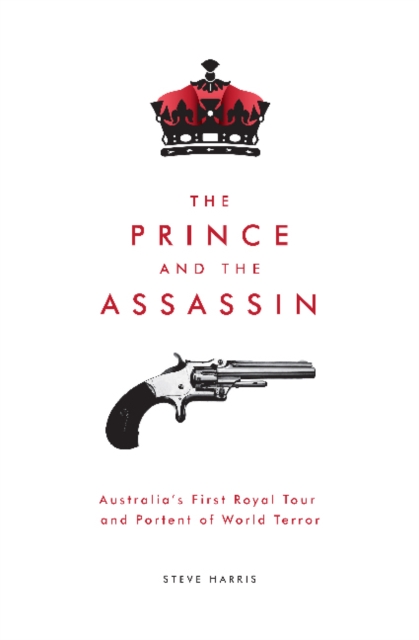 The Prince and the Assassin : Australia's First Royal Tour and Portent of World Terror
Paperback / softback
Description

Information

Other Formats
Description
The engrossing real life story of how Queen Victoria's favourite son, Prince Alfred, undertook the most ambitious Royal tour, only for Australia's overwhelming joy of having the first Royal on its shores jolted by his decadent behaviour, then shocked by an attempted assassination by a man trained as a priest.
The British Empire's youngest and most distant outpost found itself at the epicentre of a new crime and empirical fears about the first inter-continental terrorist group, a conspiracy and a 'lone wolf'.
In a resulting 'reign of terror' extraordinary steps were taken to safeguard security with laws on treason and sedition which even the Queen felt went too far, and the would-be assassin was hastily executed in a miscarriage of justice led by opportunistic politicians.
This is an extraordinary and atmospheric weaving of the stories -- some detailed for the first time -- of royal intrigue, sexual appetite, religious bigotry, patriotic vengeance, naked ambition, national security and moral panic.
They are stories of royals, immigrants, archbishops, republicans and the founding fathers of Australia and issues that remain with us today.
Drawing on Royal, British and Australian archives, the compelling narrative embraces a pivotal time in the evolution of Australia, and on the 150th anniversary reveals how a minute of madness rocked the country to its foundations, with a legacy which helped shape Australia's history and continues to influence and challenge us today.
Revelations' & insights in The Prince and the Assassin: Prince Alfred's spare heir upbringing as 'the chosen one' and prospective King of Australia; Sexually decadent royal behaviour - An historic tour which became the model for 50 subsequent royal tours to Aust; Religious bigotry, violence and death in early Aust; How a young migrant trained and destined to be a priest became an assassin; How the biggest crime in Australia shocked, shamed, terrorised and divided the country; How Henry Parkes, 'founder of federation', suppressed and doctored evidence, hired private spies and criminals for political advantage; Australia suppressing civil liberties, even making it a crime of treason to discuss republicanism and to not drink a toast to the Queen; Australian Catholics accused of disloyalty and an Archbishop conspiring against the Government; Australia's most sensational trial, one of injustice and vengeance for a crime not on the Empire's capital list; Alfred appealing for his would-be killer to not be executed; An Australian Government accused of promoting fear for political advantage and committing treason and fraud.
Information
Format:

Paperback / softback

Pages:

328 pages

Publisher:

Melbourne Books

Publication Date:

01/08/2017

Category:

ISBN:

9781925556131
Information
Format:

Paperback / softback

Pages:

328 pages

Publisher:

Melbourne Books

Publication Date:

01/08/2017

Category:

ISBN:

9781925556131