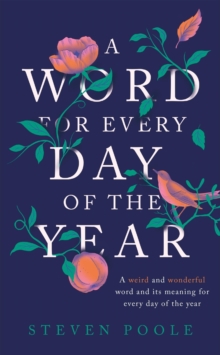 A Word for Every Day of the Year
EPUB
Click here to see our help pages on reading this eBook on your chosen device. Please note that this eBook is incompatible with Kindle eReaders. Don't forget you'll need Adobe Digital Editions, if you don't already have it.
Description
A weird and wonderful word and its meaning for every day of the year.

'A lexicological delight' Professor David Crystal
Who knew that to dringle is to 'waste time in a lazy lingering manner'? Or that a sudden happy ending could be termed a eucotastrophe? Looking for an alternative word to 'bullshit'? Then try taradiddle.

A Word for Every Day of the Year is a fascinating collection of 366 words and their definitions, perfect for anyone who loves the richness of the English language, its diversity and wants to expand their vocabulary. Each day offers a rare and remarkable word with its history and definition and occasionally a challenge to include it in our lives.