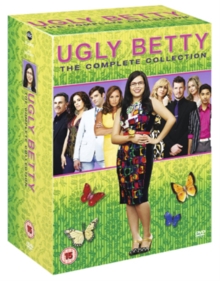 Ugly Betty: The Complete Collection
DVD
Information

Description

Other Formats
Description
The complete four seasons of the kooky American TV comedy series about life in the fashion publishing industry.
Betty Suarez (America Ferrera) has always wanted to be a success in the world of fashion publishing, but although she's smart, efficient and hard working, her looks (dental braces, spectacles and bizarre dress sense) have always counted against her.
Gaining a position at fashion bible 'Mode Magazine' through sheer determination, Betty now has to prove her worth to colleagues that will stop at nothing to undermine her confidence and position.
Episodes from the first season comprise: 'Pilot', 'The Box and the Bunny', 'Queens for a Day', 'Fey's Sleigh Ride', 'The Lyin', the Watch and the Wardrobe', 'Trust, Lust and Must', 'After Hours', 'Four Thanksgivings and a Funeral', 'Lose the Boss?', 'Fake Plastic Snow', 'Swag', 'Sophia's Choice', 'In Or Out', 'I'm Coming Out', 'Brothers', 'Derailed', 'Icing On the Cake', 'Don't Ask, Don't Tell', 'Punch Out', 'Petra-Gate', 'Secretaries Day', 'A Tree Grows in Guadalajara' and 'East Side Story'.
Episodes from the second season comprise: 'How Betty Got Her Grieve Back', 'Family/Affair', 'Betty's Wait Problem', 'Grin and Bear It', 'A League of Their Own', 'Something Wicked This Way Comes', 'A Nice Day for a Posh Wedding', 'I See Me, I.C.U.', 'Giving Up the Ghost', 'Bananas for Betty', 'Zero Worship', 'Odor in the Court', 'A Thousand Words By Friday', 'Twenty-Four Candles', 'Burning Questions', 'Betty's Baby Bump', 'The Kids Are Alright' and 'Jump'.
Episodes from the third season comprise: 'The Manhattan Project', 'Filing for the Enemy', 'Crimes of Fashion', 'Betty Suarez Land', 'Granny Pants', 'Ugly Betty', 'Crush'd', 'Tornado Girl', 'When Betty Met YETI', 'Bad Amanda', 'Dress for Success', 'Sisters On the Verge of a Nervous Breakdown', 'Kissed Off', 'The Courtship of Betty's Father', 'There's No Place Like Mode', 'Things Fall Apart', 'Sugar Daddy', 'A Mother of a Problem', 'The Sex Issue', 'Rabbit Test', 'The Born Identity', 'In the Stars', 'Curveball' and 'The Fall Issue'.
Finally, episodes from the fourth season comprise: 'The Butterfly Effect: Part 1', 'The Butterfly Effect: Part 2', 'Blue On Blue', 'The Wiener, the Bun and the Boob', 'Plus None', 'Backseat Betty', 'Level (7) With Me', 'The Bahamas Triangle', 'Be-Shure', 'The Passion of the Betty', 'Back in Her Place', 'Blackout!', 'Chica and the Man', 'Smokin' Hot', 'Fire and Nice', 'All the World's a Stage', 'Million Dollar Smile', 'London Calling', 'The Past Presents the Future' and 'Hello Goodbye'.
Information
Format:

DVD

Region:

2

Certification:

(15)

EAN:

8717418301439

Catalogue number:

BUG0159501

Studio:

Walt Disney Studios Home Ent.

Release date:

28/03/2011

Genre:

Comedy

Colour:

Colour