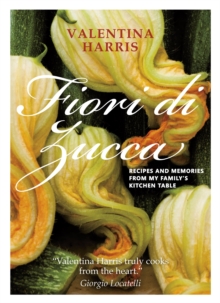 Description
Valentina has a wonderful story to tell. Her grandfather, Count Carlo Sforza, who became the Italian Ambassador, was posted to Constantinople, Peking (at the end of Imperialist China), Corfu, Rome and Paris.
In 1922 he resigned in order to return to Italy to fight facism.
The family suffered brutal harassment, forcing him to flee - going back to Peking and on to the US - and the family to move to Brussels, then on to France, the UK, Canada and the US for most of WW2.
Finally the family returned to Italy after the war. This is where Valentina's mother met her English husband - Valentina's father.
Having caused a scandal with their marriage, her mother and father were banished to Tuscany, where Valentina spent most of her childhood.
Against a backdrop of different cultures and cuisines, Valentina narrates beautiful and powerful stories - along with her discovery of pure, intense happiness from cooking.
Gorgeous recipes guide you through Valentina's history. You'll find the Braised Cinnamon Duck with Caremelised Pears that Valentina's mother created in memory of their Russian ancestors and the Belgrade Almond Cake that Valentina used to eat with her cousins from Montenegro, as well as the Seafood Risotto that Beppino, their cook, taught her in Italy and the Nougat Semifreddo that she used to eat with her father on the via Veneto in Rome.
Here are 85 recipes that have been handed down through the generations or inspired by family stories and experiences.
This is the culmination of Valentina's career and the book of her heart and soul
Information
Format:

Hardback

Pages:

256 pages, Illustrations

Publisher:

Watkins Media

Publication Date:

01/06/2013

Category: Memoirs
ISBN:

9781848990692
Free
Standard Delivery

Within the UK