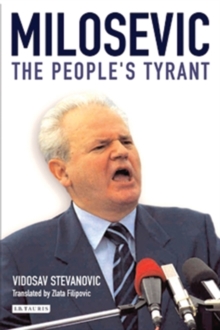 Milosevic : The People's Tyrant
Hardback
Description
Slobodan Milosevic - Belgrade's tyrant and successor to Tito, 'Butcher of the Balkans' - represents, in many ways, the final shudder of that particularly aggressive 20th-century brand of the creature that was nationalism.
His life story is a study in evil: in the 'banality of evil' to use Hannah Arendt's famous phrase.
With all the intensity and horror of personal experience, Vidosav Stevanovic, perhaps Serbia's greatest modern writer, tells how Milosevic, a man devoid of any true qualities, climbed his way to the top in slow, silent, murderous steps.
But, behind the facade of a grey bureaucrat, is a character of tragic, near-Shakespearean proportions. 'Sloba', as he came to be known, had a loveless childhood, son of a defrocked pastor and school-teacher mother.
When Sloba was very young, his father went insane, and killed himself in front of the strange stones to which he preached every Sunday in a nearby field, with a bullet to his temple.
Little Miriana, Sloba's future wife and his succour and accomplice in politics, was born in prison, heralding the execution of her own mother, condemned as a Nazi collaborator. Stevanovic, however, has witnessed the greater tragedy: his country's suicide.
Part of an ever-diminishing circle of intellectuals who watched as the Milosevic machine destroyed the young nation, trampling over its people and its principles, his is a shattering cri-de-coeur for the victims.
It is the bitter personal lament of one man, exiled - as so many of his compatriots - from homeland and history by the Milosevic lie.
Milosevic: A People's Tyrant asks how a fractured country and a shattered society could believe in such a man, and raise him to such power.
In this raging anatomy of wrong-doing, all are guilty - those who believed, those who followed, those who stood and watched, those who could or would not stop the tragedy from playing out.
Vidosav Stevanovic is a Serb himself, and his searing portrait of the Milosevic psychology is a unique testament from within - the biography of a dictator, but also of those who made him.
No book will come closer to the man who made Europe shudder, and toppled the Balkans into an inferno out of which it will take years to climb.
Information
Format:

Hardback

Pages:

288 pages, 1 map

Publisher:

I.B.Tauris & Co. Ltd.

Publication Date:

23/07/2004

ISBN:

9781860648427
Free
Standard Delivery

Within the UK
Also by Vidosav Stevanovic