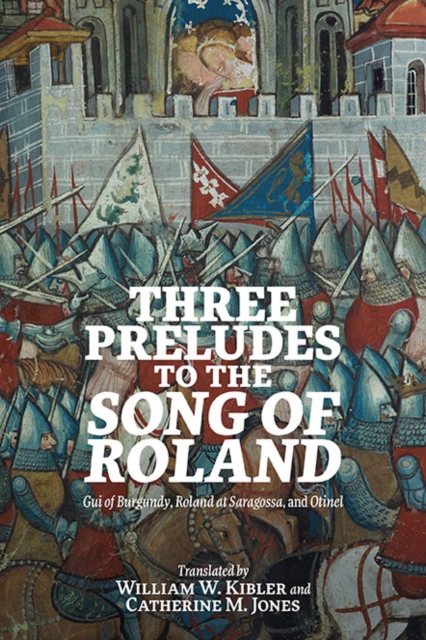 Three Preludes to the <i> Song of Roland</i> : <i>Gui of Burgundy</i>, <i>Roland at Saragossa</i>, and <i>Otinel</i>
EPUB
Part of the Gallica series
Click here to see our help pages on reading this eBook on your chosen device. Please note that this eBook is incompatible with Kindle eReaders. Don't forget you'll need Adobe Digital Editions, if you don't already have it.
Description

Information

Other Formats
Description
The first complete English translation of three chansons de geste inspired by the Romance epic, the Song of Roland.

The success of the eleventh-century SongofRoland gave rise to a series of around twenty related chansons de geste, known collectively as the Cycle of the King. In addition to reworkings of the Song of Roland in Old French and other medieval languages, these poems are devoted to the numerous military campaigns of Charlemagne against the Muslims before and after the tragic Battle of Roncevaux. These texts provide valuable insights into the medieval reception of the Roland material, exemplifying the process of cycle formation and attesting to the diversity of the Romance epic. Far from presenting a simplistic view of the clash of civilizations, these chansons de geste display a web of contradictions, offering both a glorification and a critique of hatred and violence.

This volume offers English translations of the three epic poems whose action directly precedes the events of the Song of Roland. Gui of Burgundy extends the period of time spent in Spain by Charles and his army from seven to twenty-six years, which gives the sons of the Twelve Peers the opportunity to reach adulthood and come to the rescue of their fathers. Roland at Saragossa, composed in Occitan, takes place in the days immediately preceding the decisive defeat and relates in an heroi-comic manner how Roland sneaks into Saragossa at the request of the pagan Queen Braslimonda, who has been enraptured by his strength and beauty. Finally, Otinel tells of a Saracen envoy who comes to Paris to challenge Charlemagne on behalf of the Emir Garsile, who has his capital in Lombardy. The action takes place in France and northern Italy in a lull between the capture of Pamplona and the defeat at Roncevaux.

The translations are presented with notes, and the volume includes an introduction placing the poems in their wider historical and cultural contexts.
Information
Format:

EPUB

Pages:

200 pages

Publisher:

Boydell & Brewer Ltd

Publication Date:

18/07/2023

ISBN:

9781805430520
Information
Format:

EPUB

Pages:

200 pages

Publisher:

Boydell & Brewer Ltd

Publication Date:

18/07/2023

ISBN:

9781805430520